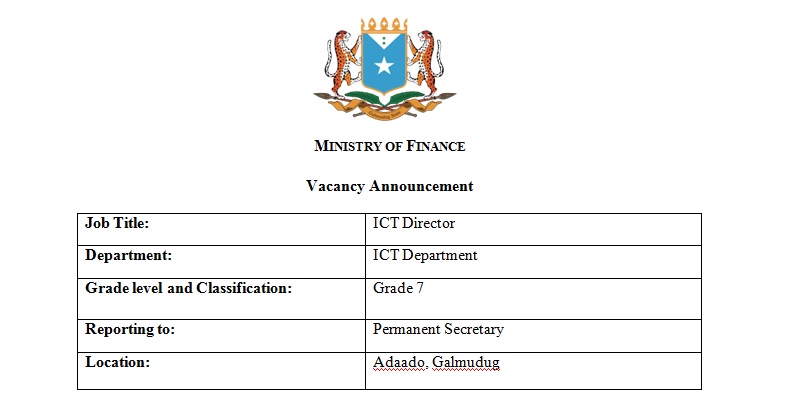 Purpose of the position
The main role of the ICT Director is to manage and direct the effective provision of technology and information systems to the Galmudug Ministry of Finance and other ministries of the Interim Galmudug Administration (IGA). The ICT Manager is the critical link between users at all levels, particularly various departments in the MoF and the systems technology that they utilize and rely on to undertake their work. The role requires the Director to adopt a proactive approach to the development of information systems by promoting the use of best practice amongst the user community.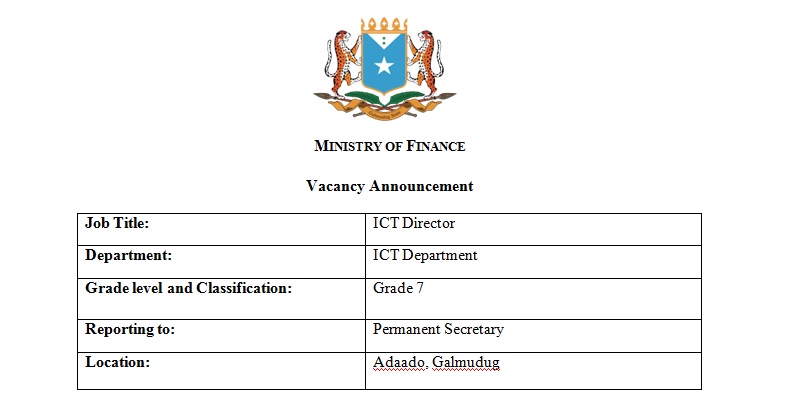 The Director will be supported by one officer in the future who will provide first line help desk support and ensure that the network infrastructure is operational 24/7 and that work stations and server systems are serviced and maintained as required. The ICT Director will be responsible for ensuring that the service is delivered to agreed standards.
Education and Experience
A first level university degree with a combination of relevant academic qualifications and minimum of 5 years of relevant experience may be accepted in lieu of advanced university degree.
Specialized system administration certifications are added values.
How to Apply
Interested candidates should send their application to [email protected] by 18th of February 2016. Each application should include an updated CV, an application letter and contact information for three work-related referees.
Note
Applications not including all the above information will not be reviewed.
Write the title of the position on the subject of your email.
Only short listed candidates will be contacted.